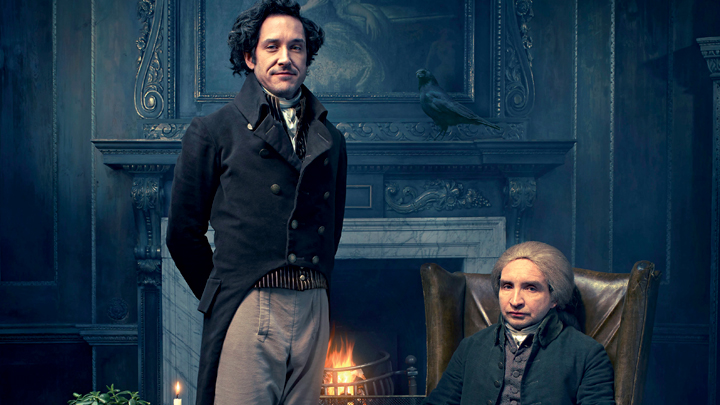 I barely watch television these days which I guess is a good thing. However, I recently had the urge to shut down my laptop, escape the rabbit hole that is the internet and get lost in a decent bit of telly. Preferably a piece in another time and place, with a dash of the 'other-worldly' about it, something to draw me in with a rich setting and mysterious characters all tied together in a darkly intriguing tale.


Well it just so happens that BBC 1 has brought to life the story of
Jonathan Strange and Mr. Norrell
- an 'alternative history' novel created by Susanna Clarke. Episode one brought lantern-lit cobbled alleyways, a vast library filled with books of magic, a tarot card stand-off and the wonderfully named characters of Drawlight, Honeyfoot, Segundus and The Gentleman. A raggedy street magician, played by Paul Kaye, spits out a prophecy of two magicians restoring magic to England - first is the reclusive Mr. Norrell, the second a wealthy novice magician
Jonathan Strange.
I hope that the quality of that first hour is matched in the following six and I'm glad to finally have a series to look forward to each week. Not only that, I now have another
addition
for my never-ending to-be-read list! (Once a bookworm, always a bookworm).
There is still time to catch-up on the first episode
here
. Jonathan Strange and Mr. Norrell returns on Sunday at 9pm.
♥ Some extra reading for bonus points(!) ♥
Miss Transmission's wish list before the cast was revealed is
here
and if
this
recommendation by Neil Gaiman doesn't whet your appetite for the book's delights nothing will.
If you are a long-time fan of the book who would your choices for the cast have been?

P.S. Without having read the book, I thought that Eddie Marsan as Mr. Norrell was superb as always, I couldn't stop watching him. Marc Warren was also on form and brilliantly creepy as The Gentleman.

If you do tune in let me know what you thought?